The book is published
  This handbook aims to be an easy to read summary, laying out procedures to achieve the best photography from relationships between artisan companies and photographers.   It contains a smattering of photographic theory supported by examples from real-world case studies. Special attention is given to planning and collaboration, offering practical tools that enable artisans to tell their stories through photography.
It is available direct from this website – use contact form to order, just ask for the book in the comments and you will receive a paypal request, only £9.95 including U.K. postage as a special first print run offer. ISBN 978 1 7397791 0 8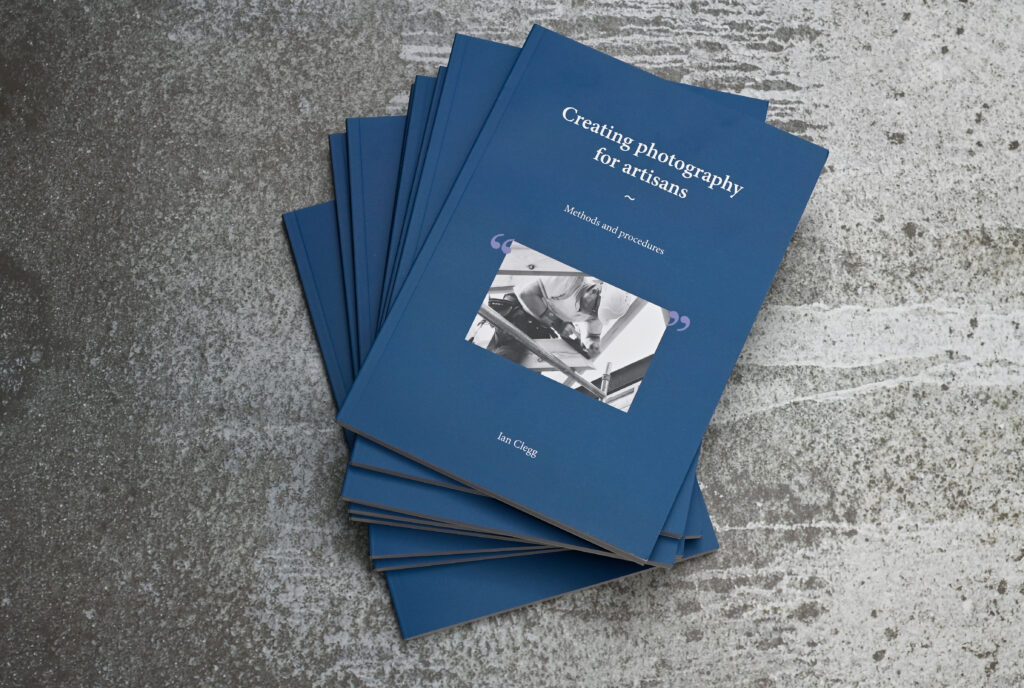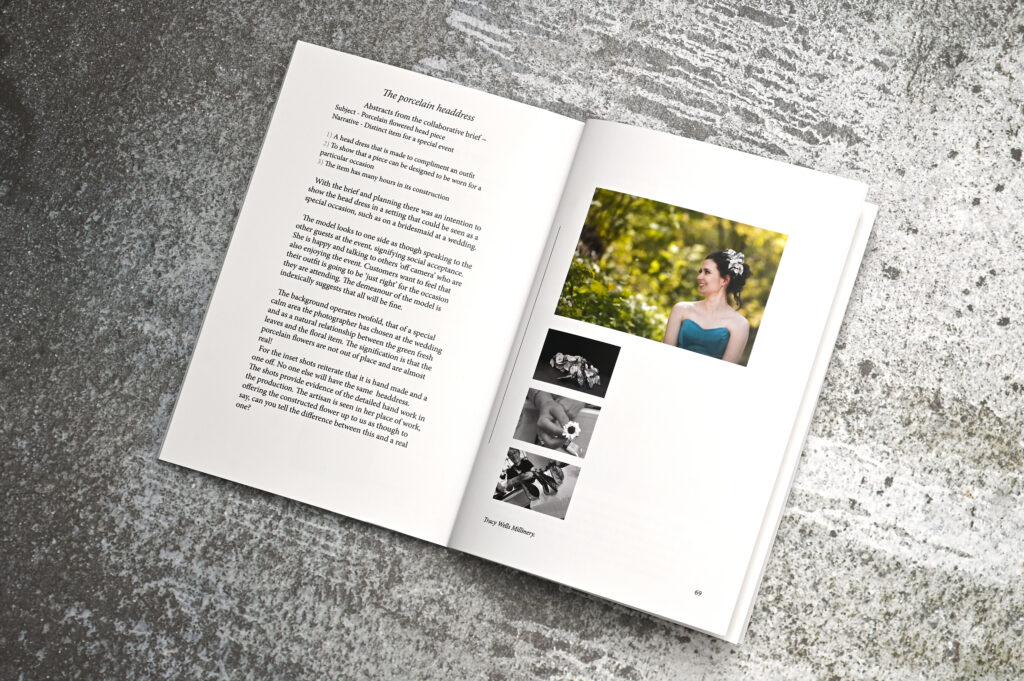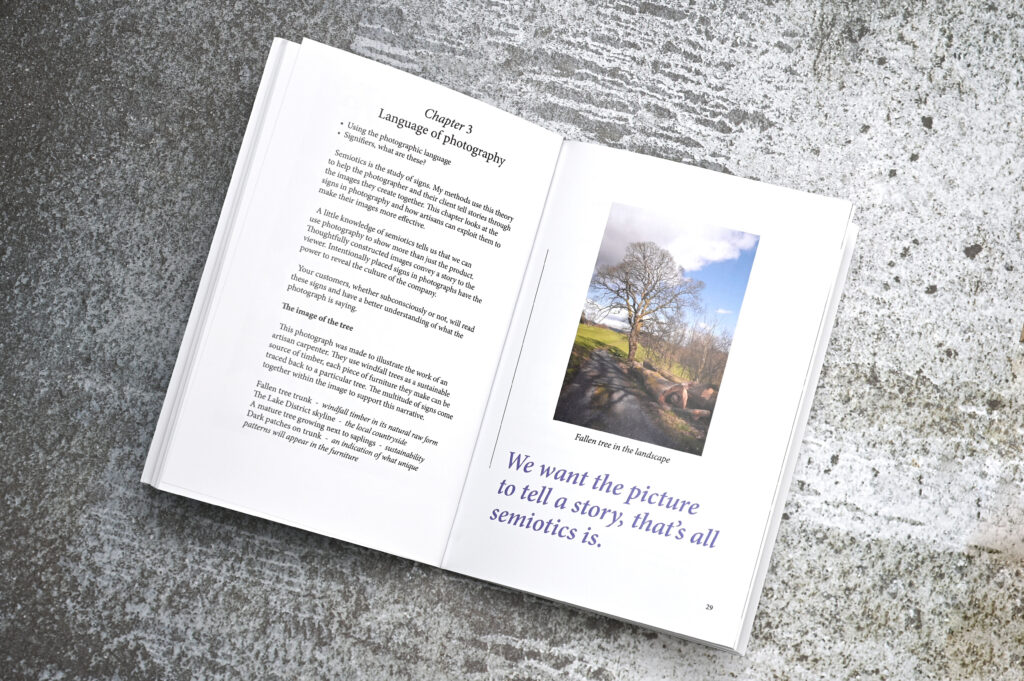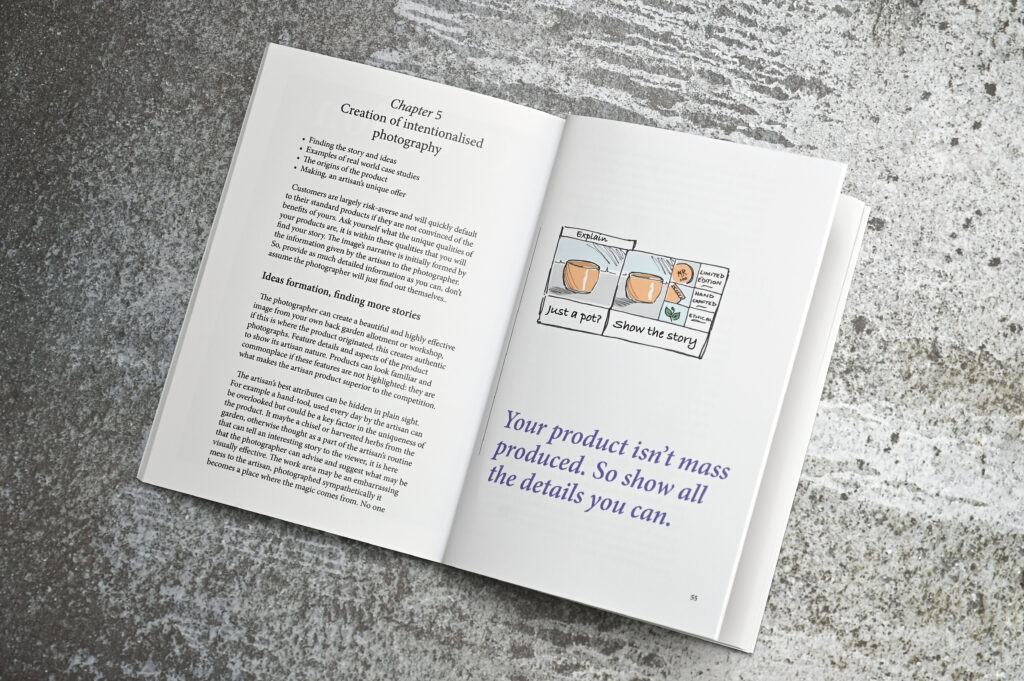 This is an overview of the research into the collaboration between photographer and artisan.
Photographer, Art Director, Designer, Visualiser, Creative Director, Account Manager, Artist, Lecturer are but some of the many job titles I have had during my experience within the advertising world. Throughout the decades I have worked on both sides of the camera, and spent the last 3 years researching the role photography takes in enabling artisans to maximise their presence on the high street.
As stated in my book – 'Creating photography for artisans', I am including some document blanks and further projects that I have been involved with my case studies. Please feel free to use the briefing sheet blank, it is helpful for both artisan and photographer, enabling them to create narrative based photography that reveals the uniqueness of the artisan trade.
This handbook is available @ £9.95 including postage in the U.K.
from – ikclegg@btinternet.com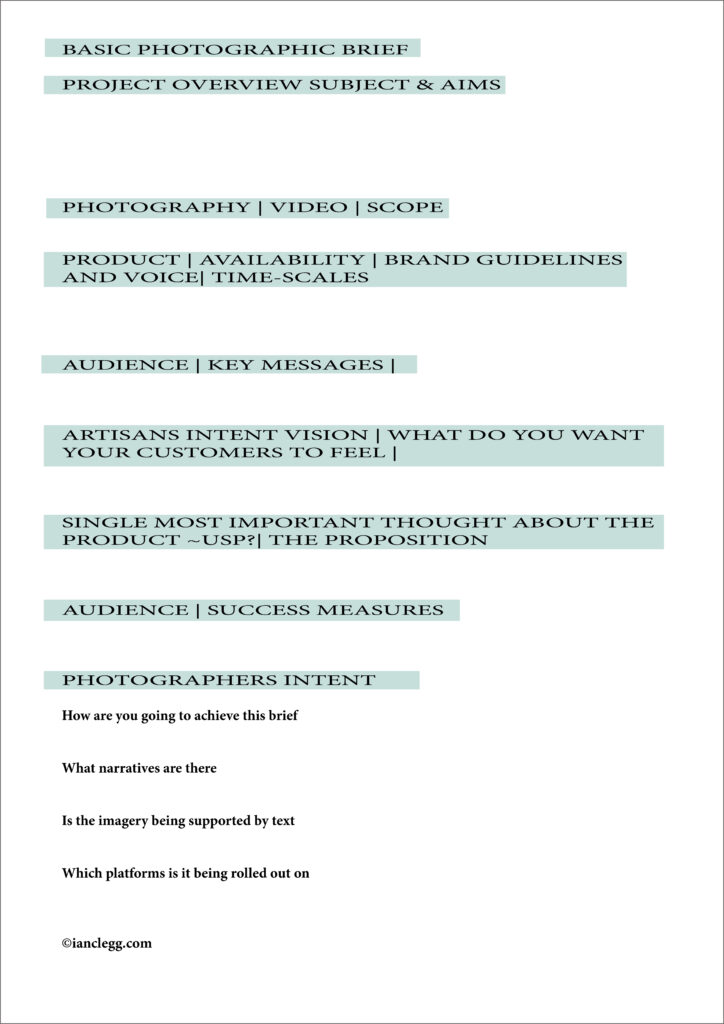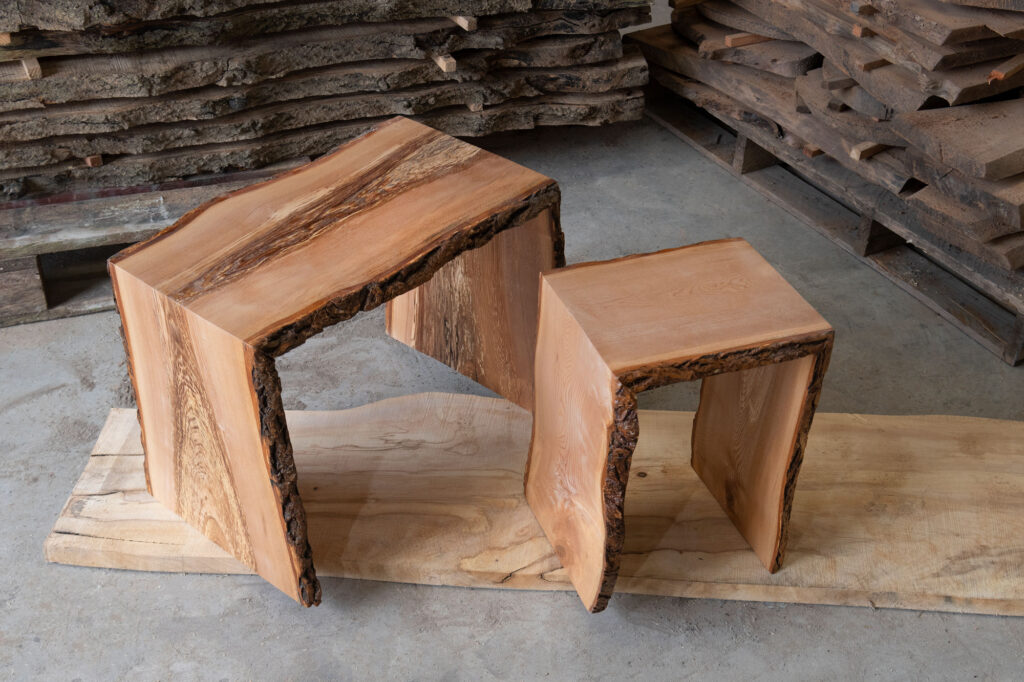 Participant No 1
Cumbrian Timber Frame & Joinery is a business located in the town centre of Ulverston, Cumbria, in an interiors and furniture retail shop on King Street called 'Cumbrian Interiors'. It also has workshops located at Canal Foot which is 2 miles out of town on a modern industrial estate where the products are hand-crafted.
The customer will never see the workshops and can only find and purchase the product in the retail shop. Although sounding like a big company, it is owned and run purely by Peter Mawson. It has had employees in the past, but now Peter is the maker, and there are self-employed sales staff at the shop.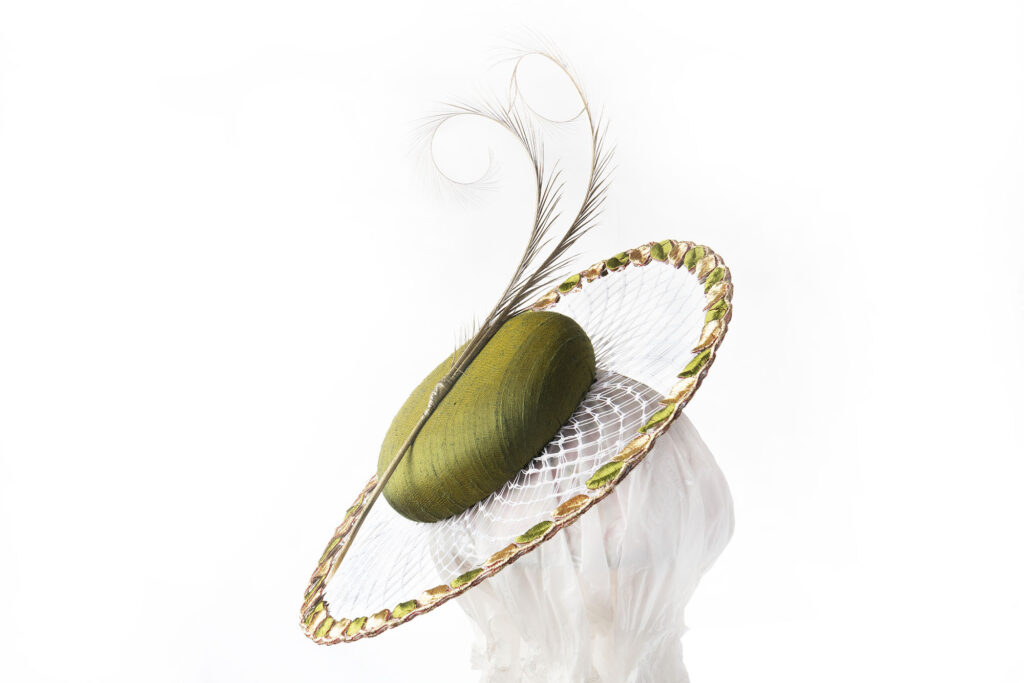 Participant No 2
Tracy Wells, is a couture milliner based in the lovely market town of Ulverston on the outskirts of the Lake District U.K. I design make bespoke hats and fascinators using traditional millinery techniques.
She has been practising millinery for eight years since putting herself back into college to gain a City and Guilds Couture qualification. Tracy has always had thoughts on how hats should be constructed, and now has the opportunity actually to create them. Initially working out of the corner of a hairdressing business, Tracy has a shop and workshop dedicated to millinery.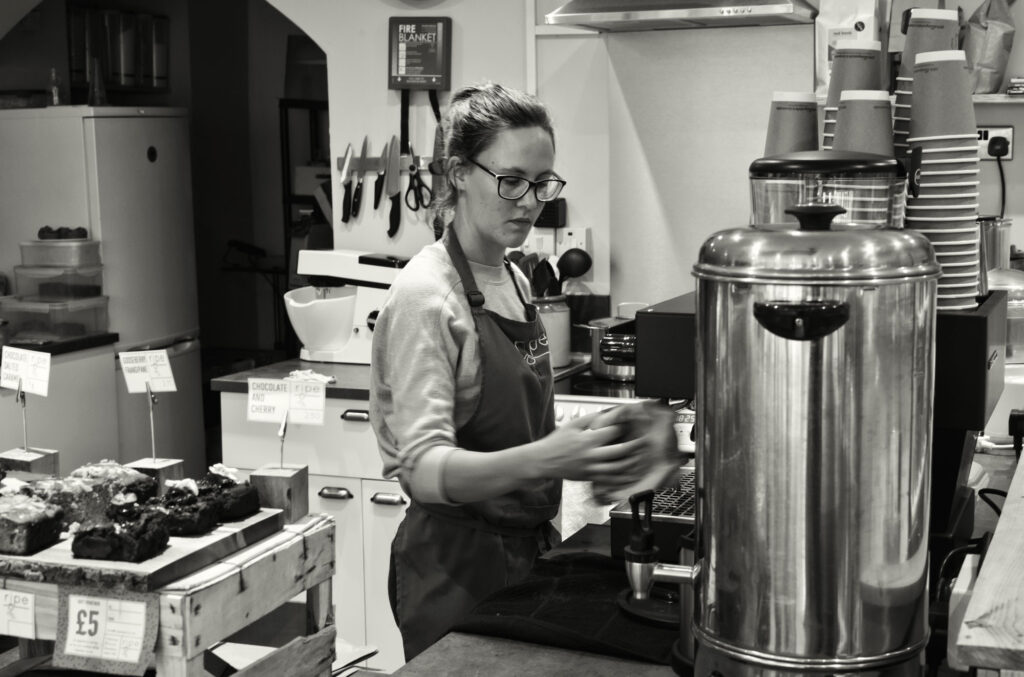 Ripe is a specialist food and bakery shop based in Ulverston.
The majority of the food is made on-site, using seasonal and natural ingredients, pure and 'ripe'. They use real grains and whole flours, raw nuts, unrefined sugars and fats. Eggs from local hens that are free to roam. Fresh fruit, herbs, vegetables and edible flowers that are home-grown or as local as possible. All from organic and sustainable sources.
Their products are cakes, salads, bites, bread and more, produced with these principles in mind.
Ripe serve a selection of hot and cold drinks and have a small seating area.
Ripe is owned and run by Ella Cheeseman.